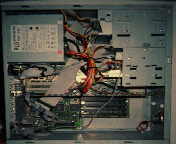 The picture to the right believe it or not, is an Amiga 1200 ! I have completely stripped down Commodore's A1200 desktop design and hacked it into a tower casing. I have modified it considerably beyond the scope of Commodore's original design!

At this stage, as you read this article, you are thinking "How boring, he's just built a PC". Wrong ! PC's computers run Microsoft Windows and Microsoft programs. This machine runs neither. It only uses AmigaOS 3.9 as the core operating system and only runs prehistoric Amiga software. It is so old, the processor is an aging Motorola 68060 processor running at a pathetic 50Mhz. What however, makes it such a joy to use is the compactness of the operating system, with a bare install weighing in at just 10 megabytes !

Breaking the original rules, and modifying Commodore's original design, lay where where I have pushed the machine beyond it's originally design. It included extracting the machine from's it desktop case, mounting the main board into a tower case, extracting zorro 2 signals from the trapdoor connector to add further expansion cards by fitting a zorro two daughterboard, and scan doubling the video signals from the machine to get them to display on a modern PC monitor with a combined scan doubler and flicker fixer.

This project has been a real challenge. But what I love most, is hardware hacking, something which takes me back to the dawn of 80's computing when Sinclair computers introduced some of their self assembly kits for freaks to build their own ZX80. This article details in full my extensive knowledge of the Amiga system, it's limitations, and how I pushed the hardware to it's limit with plenty of bodges, and hacking.

After modification of the original desktop Amiga 1200, I now have fitted:



Amiga 1200 revision 1D1
Four way EIDE splitter interface
Blizzard 1260 accelerator card
Blizzard 1260 SCSI II host adapter
Zorro 4 daughterboard with 5x Zorro II slots
Memory: 2 megabytes of CHIP-RAM, 128 megabytes of FAST-RAM. Total memory: 130 megabytes.
Hard disks: 40 gigabyte Hitachi and 20 gigabyte Seagate hard disks. Commodore's 8 gigabyte limit with regard to hard disks is present in ROM. I have bypassed it using Oliver Kastl's IDE fix software which is made reset resident on bootup. The 4 gigabyte limit of Commodore's Filesystem I have also overcome using Greed's Professional File System so I am able to use massive hard disks ! Professional File system can support partition sizes up to 104GB and hard disks up to a maximum size of 2 Terrabytes, if and when drives of these ridiculous sizes become available! Not bad for an ancient Amiga 1200 computer eh ?!
Atapi drives connected: Benq CD-ROM, Memorex CDRW 2216 rewriter and a Zip 100.
The following Zorro expansions cards are fitted (not actually shown, since this is an old photograph).
8512/17: Phase 5 Digital Products Blizzard 12x0 (@$00EA0000 128k)
4626/42: individual Computers Buddha IDE / Catweasel (@$00E90000 64k)
8512/67: Phase 5 Digital Products CyberVision 64/3D (@$00200000 4M)
4626/23: individual Computers X-Surf (@$00EC0000 64k)
5001/7: VMC HyperCOM 3+ (@$00ED0000 64k)