John Prescott

John Prescott's main skills are his natural facial simularity to a Bulldog. For now it can be revealed. John can be seen on the television advertisement for Churchill car insurance. He can also be seen on the back of car parcel shelves as those silly nodding dogs which you will often see on a Sunday afternoon's drive when you become stuck behind some daft pensioner who insists in driving at 2mph in a 30mph zone.

If any of you have watched some of the Sunday morning politics shows, you may recall seeing a clip of Prescott attempting to dance at some disco. John Prescott is in fact a bit of a John Travolta who likes to aquaint the dance floor, only rather than performing some cool dance moves, he dances like a "bell end" and performs the 'mincing waltz' like some rectal procedure has been performed on his botty. Yibble, Yibble.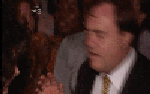 Further analysis of this televison clip of Mr Prescott's disco techniques, reveals his other great dance moves which include a side-to-side 'rocking' head motion, which again confirms he is indeed that same nodding dog from the Churchill car insurance advert.
Some may say Prescott's bark is worse than his bite, but his limp punch is worse than his bark. He likes to play fisticuffs with demonstrators who throw eggs at him. Only he punches like a girl. He might as well of hit that protester with Lilly Savage's "liverpudlian handbag". Click this link to see Prescott's limp punching technique.
When John Prescott is not strutting 'the mincing waltz', or sitting on car parcel shelves, he often participates in a popular past time that is practiced in the West coast of England. This sport is known as "Gurning". It involves contorting ones facial muscles to the point of extreme uglyness. Prescott often demonstrates such gurning talents in performing his impersonations of the late Les Dawson whilst sitting with other Labour MP's in the house of commons.
Most of the time this fatty just sleeps off the previous night of crap dance moves and booze, by falling asleep in the commons. His favourite name is "two jags, and a packet of crisps". His favourite phrase is "Ohhh, yes!", which is John's reply when the backbenchers ask him "Did you eat all the pies John?".
An anagram of the word "JOHN PRESCOTT" translates as: "TORCH PEST JOHN". This hidden anagram also shows why British people love to celebrate Guy Faulkes night on the 5th day of the 11th calender month. This winter festival has nothing to do with the gun powder, treason and plot, but refers to torching the effergy "PEST JOHN" on the top of the bonfire every year. For maximum incineration of "PEST JOHN", a jerry can of petrol and a packet of swan vesta's is indeed essential.
I now hand you over to George Doors on the drum kit, for he is the man with the scores. What's the score's George Doors?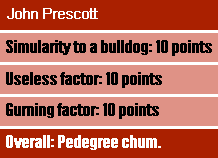 "Bah, the score is crap. Your sentence Prescott is to continue starring as the bulldog in the Churchill car insurance ads, and to eat pedegree chum dog food for the rest of your living days. You are also found for dodging council tax payments on one of your properties, and participating in hanky panky with your own secretary [the poor girl]."
In the light of cheating on his wife Pauline with his female secretary, here is a Prescott joke:
Q) What does John Prescott and an MFI flatpack have in common?
A) A couple of screws and the whole cabinet falls apart...