---
Ben Daglish
If Rob Hubbard is The Guru Of Games, then he has a very close second in the shape of the effervescent Ben Daglish, Gremlin's in-house music writer. Ben has a lot in common with Rob Hubbard, both in terms of musical background and basic approach to music. He's also a great admirer of Rob, and they chat together fairly frequently about life in general and the intricate aspects of music programming. Ben was up to his neck in work when we met, a problem made worse by a recent two-week lay-off thanks to appendicitis. Now he's back in the office, he has more games to write for than ever. Working at frantic speed, his words tumble out like a fluent data stream.
Ben began his musical career in the time-honored tradition: recorder lessons at an early age. His parents were very keen music fans, and counted running a folk club amongst their musical interests. Ben was going to study music seriously but decided to do maths and physics 'A' levels, gaining a place at university. Within a year, he decided that university wasn't really what he was cut out for, and so returned to Sheffield.
Ben has played orchestral percussion for some years, gaining a very wide background knowledge of music in the process. Like Rob, Ben began with educational software - setting up a company while at school with Tony Crowther. After dropping out from university he renewed his contact with Tony and formed a specialist music company - We MUSIC - which he ran from home. Finding that the business side detracted from music-making, Ben was more than pleased when Gremlin offered him a staff job...
Well-Equipped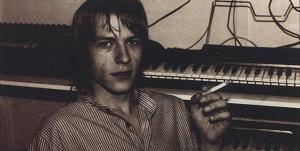 Ben's office-come-workroom is well equipped with a couple of synths and synth modules, an eight-track recorder, Atari 1040 ST and Commodore 64. The walls have sheets of manuscript paper tacked to them along with the brief for the games he is working on. Bounding around with great enthusiasm, Ben loads several examples of his work, some of it using a MIDI sequencer, and leaps around the room, grabbing guitars and keyboards to fill out the sound even more.
So what's the Daglish approach to creating a game soundtrack?
"I normally work things out first on the keyboard, developing the bass, tune, and harmony, while working out the general mood and style. I might even use a drum machine to get the rhythm pattern." Everything is written initially for the SID chip in the 64 as this offers more sound possibilities, but written on the Atari ST.
The ST is used as a master controller running player software written in PASCAL. Gremlin's system is the musical equivalent of a word processor: whole lists of numbers flash up on the ST screen - the data codes for the notes and their sounds. The Atari crunches away using a cross-macro assembler to transfer the data to the 64. This way of working is very flexible... "I play a piece through, decide that particular sounds aren't right, go back to the player, reformat the tune with the corrections and repeat the whole process again. Often I get a quarter of the way through programming a piece and realize that I really hate it. This usually means if I have time I'll start all over again."
When the final version of a tune has been approved for inclusion in a game, the Atari can be used to recode it so that it will run on the AY chip common to the Amstrad, BBC, Atari and Spectrum 128. Clever stuff! Ben stresses that he does not write his own player routines, rather he defines what they should be and Gremlin's in-house programmers create the software.
"The nice thing about the player routine I'm using now is that I can designate repeats anywhere I want - and hardly use up any more memory, so it's possible to get quite lengthy, interesting tunes out of a small core of material."
Restrictions
As we talk, a fax comes through from the game programmers working on the current project and further limits are put on the way that the music must be spaced in order that the TV scan line will run. Unflustered by these new restrictions, Ben continues... "I wish I could play the keyboard more fluently (he seemed pretty fluent anyway). Often I have to work things out note for note as opposed to just doing it. Another one of the problems with music for games is that it's nearly always going to be heard through the horrible speakers on the monitor or on-board the micro. This means after I've programmed the music through big stereo speakers, I have to play around with the volume levels and treble and bass otherwise it sounds really funny when the game is played by the purchaser."
When I met him, Ben was working on The Alternative Olympic Games (a spoof on the Epyx sports genre. Theme tunes for all the competing nations were ordered and Ben had just finished a very catchy little number.
Before starting work on Alternative Olympics Ben had his first brush with writing for the ST, working on Galax. "I was disappointed with the ST's sound capabilities", he observes. He's also disappointed by a lot of what he hears through the computer monitor speaker...
"It annoys me that there is a lack of tunes and imagination on most games though. I admit I am a great musical snob!" and then proceeds to illustrate, by hamming up some very repetitive games tunes on a nearby keyboard.
"With some games you think, my God they're not really trying at all! It's just a blank soundtrack, noise as opposed to a piece of music. Much of this type of music relies on cliches and sound effects, both of which I try to avoid. I think the only person who really knows how to use sounds is Rob and that's because he's been a synthesiser man for a good many years and he knowns how to use sound effectively. Too many people discover a weird sound effect and decide that it will dominate their soundtrack...
"The development of music for the C64 has been very interesting though. When it came out nobody realized that you could do pulsed fades and things like that - or if they had, no-one was using it effectively."
It is obvious talking to both Ben and Rob that the era of the musician / programmer is nigh. Music for games, just like graphics, is coming of age and the public are voting with their wallets. Rob, Ben and a few others have shown the way for both inventive and imaginative music that is catchy and will stand on its own; music that can last for several minutes but doesn't follow the boring old pattern of repetition. The chips used on 8-bit machines are being pushed to the limit. It will be very interesting to see what they will be doing when new, super sound chips become more commonly available. My guess is that they will move towards a mixture of manipulated sound samples and high level synthesis. The results will be stunning. Watch this space.
---